The 2022-23 season is underway!:
The "Ugly Christmas Sweater" bonspiel is scheduled for Saturday, December 10th. The play will be from 11:00AM -> ~4:00PM with a turkey dinner immediately following….all for only $15 per person. Sign up on the bonspiel poster in the club!
The 2022-23 Industrial League schedule has been posted, see here.
The new URL for our club webpage is https://curlpictou.ca and the new club contact email is curlpictou@gmail.com.
---
The club hosted a Motorcycle Flea Market and Show, organized by our own Kevan Welch. The event was very well attended and the donations collected at the door, amounting to $660 and 7-8 bags of groceries, were donated to the Pictou West Food Bank. Bravo to the motorcycle community for their generosity!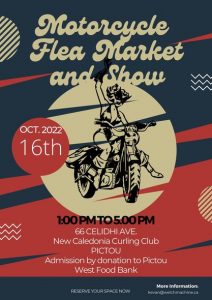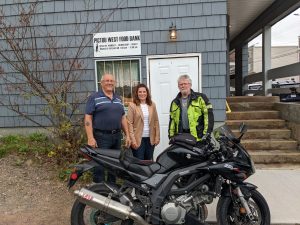 John MacDonald (vice-chair) Catherine Cougais (chair) of the Food Bank shown here with Kevan.
---
We are the New Caledonian Curling Club, of Pictou, Nova Scotia. We play at the Pictou Curling Centre located along the Pictou waterfront at 66 Caladh Ave.
Our club was founded in 1850 as the Pictou Curling Club, playing outdoors on various ponds around the town. In 1852 the club sought and achieved accreditation by the Royal Caledonian Curling Club in Scotland (see here) and soon after the club was renamed in honor of the RCCC, becoming the New Caledonian Curling Club. We moved to our present location (an indoor facility!) along the Pictou waterfront in 1910. We replaced our tidally-influenced sand floor with our present three-sheet, concrete floor in the 1980's, adding the present clubhouse a few years later.