---
This year our club has enjoyed the fruits of Margo Hilchey's fundraising efforts in the form of our new ice scraping machine. To acknowledge her efforts on this – as well as her many contributions to the financial health of our club over the past few years – the new scraper has been named after her, the 'Miss Margo'…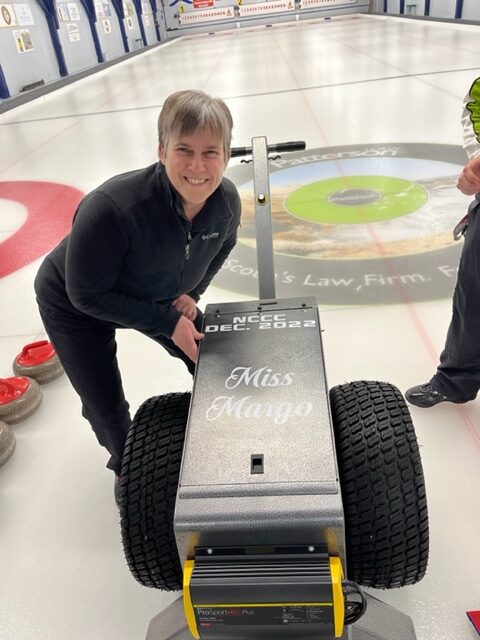 ---
The Industrial League Playoffs are underway! You can follow the brackets & schedules here as well as from the pull down menus.
---
The Ship Hector Open Curling Bonspiel (details about this can be found here) returned to Pictou county this week with its 49th incarnation and NCCC had ~6 teams entered in the 56 team contest. At the end of the tournament our club had 3 teams in the 4 club trophy finals, Donny English winning the Bluenose Trophy and Cliff Taylor winning the Stellar Trophy, while Mike Murdoch came up just short in Westville. Congrats to all who competed!
---
The extreme cold of February 4th played havoc with our ice. We've experienced a large crack in the ice which we now believe was a stress crack from contraction of the ice sheet along the NW side of the ice shed, the building side against which the strong, bitterly cold winds struck. The return to typical temperatures the following days allowed the ice sheet to relax and the cracks in the ice were addressed successfully.
---
The Strathcona Cup is on again in 2023! There are 60 Scottish curlers touring Canada and playing in 85 curling facilities between January 12th and February 2nd this year. There are three cadres of 5 teams touring; one will play in the Maritimes, one will tour western Canada, and the third will tour Ontario and Montreal.
The Pictou Curling Centre is proud to host two Stratcona Cup matches on January 19th from 09:30 -> 12:00 with two teams from the New Caledonian Curling Club playing against two of the touring Scottish teams.
General background on the Strathcona Cup can be found at http:strathconacup.ca . The basics are
the competition is held every 5 years and alternates between Canada and Scotland
Canada first played Scotland in 1902, so this is the 120th year
there will be games held in every province, from Victoria BC to St John's Nfld.
350 games will be played
1400 Canadian curlers will get to play against the Scots
the overall winner is determined by the total score for each country across all 350 games
the final banquet is at the Ottawa Hunt Club on Feb 2, and all 3 groups of Scots will be there.
---
We are the New Caledonian Curling Club, of Pictou, Nova Scotia. We play at the Pictou Curling Centre located along the Pictou waterfront at 66 Caladh Ave.
Our club was founded in 1850 as the Pictou Curling Club, playing outdoors on various ponds around the town. In 1852 the club sought and achieved accreditation by the Royal Caledonian Curling Club in Scotland (see here) and soon after the club was renamed in honor of the RCCC, becoming the New Caledonian Curling Club. We moved to our present location (an indoor facility!) along the Pictou waterfront in 1910. We replaced our tidally-influenced sand floor with our present three-sheet, concrete floor in the 1980's, adding the present clubhouse a few years later.